Highlights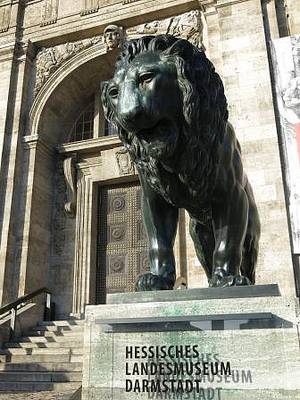 Exhibitions museum | Hessisches Landesmuseum Darmstadt | Darmstadt
Insects: massive plague ghosts and ugly vermin? It's not that easy. Insects are as diverse as their variety of forms and their ecological achievements....
Festivals | | Bad Soden
Roter, Weißer oder lieber Rosé? An Pfingsten und in der Woche darauf dreht sich in Bad Sodens Altem Kurpark alles um den Wein. Unter den ausladenden Kronen...
Exhibitions museum | Klingspor Museum, Offenbach | Offenbach
Obwohl das Künstlerbuch ein breit gefächertes Themenspektrum aufweist, denkt man nicht gleich an die exakte Naturwissenschaft. Dabei finden Biologie, Physik,...
Various | | Gelnhausen
EinKulturprogramm von Format: Der Kultursommer Main-Kinzig-Fulda JedesJahr am Pfingstwochenende beginnt der Kultursommer Main-Kinzig-Fulda und mitihm ein...
Exhibitions museum | Haus der Stadtgeschichte, Offenbach | Offenbach
Eröffnung: Sonntag, 22.04.2018, 15 UhrHagen Bonifer, Künstler und Bühnenbildner, schafft zeitkritische Rauminstallationen, die zum Nachdenken anregen: "48...
The next events
Exhibitions museum | SCHIRN KUNSTHALLE FRANKFURT | Frankfurt am Main | Altstadt
In New York in the 1970s, leaving Jean-Michel Basquiat with Al Diaz under the pseudonym SAMO © on building walls graffiti messages, drew with his own blood,...
Exhibitions museum | Senckenberg Naturmuseum | Frankfurt am Main | Westend-Süd
Over 40 million biological and geological collected objects can be found in the Senckenberg Museum. On the occasion of the anniversary, the Museum opens its...
Opera | Oper Frankfurt | Frankfurt am Main | Innenstadt
Operetta in three acts Libretto by Victor Léon & Leo Stein after Henri Meilhac's comedy L'Attaché d'ambassade (1861) First performed December 30...
Drama | The English Theatre Frankfurt | Frankfurt am Main | Bahnhofsviertel
A provocative new political thriller by Ayad Akhtar Ayad Akhtar, author of the Pulitzer Prize-winning Disgraced, spins a provocative drama about how...
Exhibitions museum | Weltkulturen Museum | Frankfurt am Main | Sachsenhausen-Nord
An exhibition with the artists Ayrson Heráclito (Salvador da Bahia, Brazil) and Rigo 23 (Madeira, Portugal and Los Angeles, USA)